We're a San Francisco Bay Area Band. We love playing gigs, writing and performing our own material, but we also perform lots of popular crowd-pleasing covers from the 60's to 2017.
We've record an album, Dancing with the Clowns and various singles, and are in the middle of recording a follow-up album for early 2018 release.
Styles: Rock, R&B, Americana, and few old Jazz standards
Artists we cover include Beatles, Rolling Stones, Bonnie Raitt, Aretha Franklin, Joni Mitchell, Sam Cooke, Martha and the Vandellas, Fleetwood Mac, Linda Ronstadt, Billie Holliday, Van Morrison, The New Pornographers, Sara Bareilles, Lake Street Dive, and Paolo Nutini, and others….
We have three hours worth of material and we keep on adding more, because we love playing music!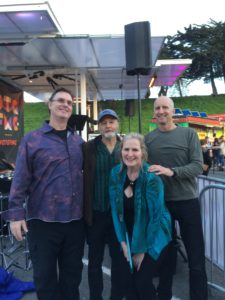 From L to R; Richard Huebner (Keyboards, Vocals), Dan Zalles (Guitar, Bass, Vocals), Jen Gill (Lead Vocals), Doug Marks (Drums, Vocals)